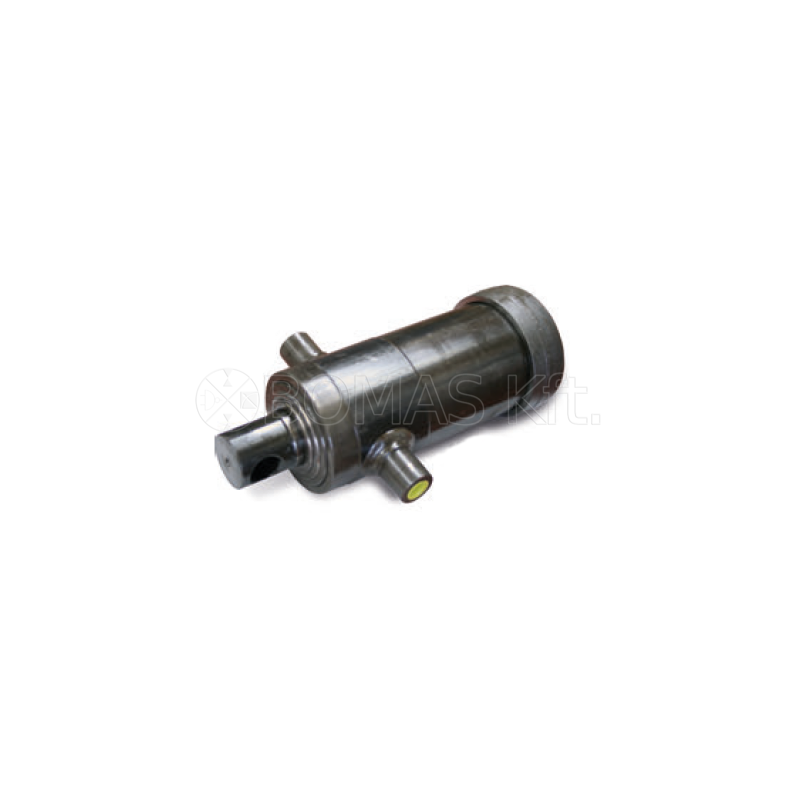  
Side mount S-Acting Telescopic Cylinders
With trunnion mounts and bored rod
SINGLE-ACTING TELESCOPIC CYLINDERS WITH
TRUNNION MOUNTS AND BORED ROD
Preferences:
- Wide range: many references with quick delivery
- Interchangeable with other brands.
- Easy adaptation with numerous fixing options.
- Easy maintenance, screwed head.

Hydraulic connectors
- One side fits the swivel rod of the cylinder (see two types, marked "1" and "2" in both tables), the other end can be chosen from the table.
- Parachute valve: In case of a hose rupture the parachute valve slows down the cylinder retraction, ensuring a slower descent of the load.
Size and type of connector
Parachute valve
Reference
1
Smooth polished tube, 17 mm
(for welded fitting)
None
BRT17D
1
Male DIN 15L
None
BRT15LD1
1
Female BSP ½"
Built-in
BCBMF181A012G
2
Male DIN 15L
None
BRT15LD
2
Female BSP ½"
Built-in
BCBMF221A012G
Telescopes
Reference
Mounting length [mm]
Section ∅ [mm]
Stroke [mm]
Force @180bar [t]
Rod end bore ∅ (A) [mm]
Swivel ∅ (B) [mm]
Bearing distance (C) [mm]
Width of swivel rod (D) [mm]
Rod end ∅ (T) [mm]
Bottom cap ∅ (E) [mm]
Length (L) [mm]
Swiveling radius (R) [mm]
Sleeve outside ∅ (G) [mm]
Neck length (F) [mm]
Rod end – bore distance (F') [mm]
Volume [liter]
Type of swivel connector (see table)
1
2
3
4
5
6
BV20610525HD
100
46
61
 
 
 
 
525
3,5
26
35
105
40
44
95
375
280
80
27
25
1,3
1
BV30760593HD
102
46
61
76
 
 
 
593
5,0
26
35
115
40
44
110
312
220
95
32
25
2,0
1
BV20610595HD
100
46
61
 
 
 
 
595
3,5
26
35
105
40
44
95
412
315
80
27
25
1,5
1
BV20760595HD
105
61
76
 
 
 
 
595
5,5
31
35
115
40
59
110
415
315
95
32
30
2,3
1
BV41070670HD
112
61
76
91
107
 
 
670
10,0
31
40
150
40
59
144
297
200
124
32
30
4,0
1
BV20760695HD
105
61
76
 
 
 
 
695
5,5
31
35
115
40
59
110
465
365
95
32
30
2,7
1
BV20880695HD
115
68
88
 
 
 
 
695
9,0
36
35
130
40
66
122
480
370
106
42
30
3,5
1
BV20610795HD
100
46
61
 
 
 
 
795
3,5
26
35
105
40
44
95
510
413
80
27
25
2,0
1
BV20760795HD
105
61
76
 
 
 
 
795
5,5
31
35
115
40
59
110
515
415
95
32
30
3,0
1
BV20880795HD
115
68
88
 
 
 
 
795
9,0
36
35
130
40
66
122
530
420
106
32
30
4,0
1
BV30760893HD
102
46
61
76
 
 
 
893
5,0
26
35
115
40
44
110
412
315
95
32
25
2,8
1
BV30910893HD
107
61
76
91
 
 
 
893
8,0
31
35
135
40
59
128
422
325
112
32
30
4,2
1
BV31070893HD
117
68
88
107
 
 
 
893
11,0
36
40
150
40
66
144
432
325
124
42
30
5,7
1
BV20880895HD
115
68
88
 
 
 
 
895
9,0
36
35
130
40
66
122
580
470
106
32
30
4,5
1
BV21070895HD
115
88
107
 
 
 
 
895
13,0
36
40
150
40
86
144
580
472
124
42
30
6,8
1
BV41261040HD
130
68
88
107
126
 
 
1040
14,0
36
45
175
45
66
172
408
295
152
42
30
8,3
1
BV30911043HD
107
61
76
91
 
 
 
1043
8,0
31
35
135
40
59
128
472
375
112
32
30
5,0
1
BV31071043HD
117
68
88
107
 
 
 
1043
11,0
36
40
150
40
66
144
482
372
124
42
30
6,6
1
BV21071095HD
115
88
107
 
 
 
 
1095
13,0
36
40
150
40
86
144
680
570
124
42
30
8,3
1
BV21071195HD
115
88
107
 
 
 
 
1195
13,0
36
40
150
40
86
144
760
650
124
42
30
10,0
1
BV31261273HD
125
88
107
126
 
 
 
1273
16,0
36
45
175
45
86
172
570
455
152
42
30
12,0
1
BV30761283HD
102
46
61
76
 
 
 
1283
5,0
26
35
115
40
44
110
315
445
95
32
25
4,0
1
BV31071283HD
117
68
88
107
 
 
 
1283
11,0
36
40
150
40
66
144
562
450
124
42
30
8,2
1
BV41071290HD
112
61
76
91
107
 
 
1290
10,0
31
40
150
40
59
144
452
350
124
32
30
7,5
1
BV21071395HD
115
88
107
 
 
 
 
1395
13,0
36
40
150
40
86
144
860
750
124
42
30
11,6
1
BV51261480HD
120
61
76
91
107
126
 
1480
11,0
31
45
175
45
59
172
435
330
152
30
32
11,0
1
BV31261483HD
125
88
107
126
 
 
 
1483
16,0
36
45
175
45
86
172
640
525
152
42
30
13,8
1
BV41451490HD
200
88
107
126
145
 
 
1490
20,0
36
50
210
45
86
205
520
335
170
42
30
16,8
2
BV41261500HD
130
68
88
107
126
 
 
1500
14,0
36
45
175
45
66
172
525
405
152
42
30
12,0
1
BV41071510HD
112
61
76
91
107
 
 
1510
10,0
31
40
150
40
59
144
507
405
124
32
30
8,8
1
BV41651670HD
212
107
126
145
165
 
 
1670
25,0
46
50
230
45
105
220
587
390
190
52
35
25,6
2
BV41451690HD
200
88
107
126
145
 
 
1690
20,0
36
50
210
45
86
205
570
385
170
42
30
19,0
2
BV41261700HD
130
68
88
107
126
 
 
1700
14,0
36
45
175
45
66
172
575
455
152
42
30
13,5
1
BV51651850HD
205
88
107
126
145
165
 
1850
22,0
36
50
230
45
86
220
525
340
190
42
30
25,0
2
BV41651950HD
212
107
126
145
165
 
 
1950
25,0
46
50
230
45
105
220
657
460
190
52
35
29,7
2
BV41451970HD
200
88
107
126
145
 
 
1970
20,0
36
50
210
45
86
205
640
450
170
42
30
22,2
2
BV41261980HD
130
68
88
107
126
 
 
1980
14,0
36
45
175
45
66
172
645
523
152
42
30
15,6
1
BV51652100HD
205
88
107
126
145
165
 
2100
22,0
36
50
230
45
86
220
575
390
190
42
30
28,2
2
BV41452120HD
203
88
107
126
145
 
 
2190
20,0
36
50
210
45
86
200
723
528
169
36
30
27,0
2
BV41652190HD
202
107
126
145
165
 
 
2190
25,0
46
50
230
45
105
220
737
545
190
52
35
33,0
2
BV51652450HD
205
88
107
126
145
165
 
2450
22,0
36
50
230
45
86
220
655
460
190
42
30
32,8
2
BV41452510HD
200
88
107
126
145
 
 
2510
20,0
36
50
210
45
86
205
800
610
170
42
30
30,0
2
BV41652510HD
212
107
126
145
165
 
 
2510
25,0
46
50
230
45
105
220
817
615
190
52
35
40,0
2
BV51452990HD
205
68
88
107
126
145
 
2990
16,0
36
50
210
45
66
205
775
580
170
42
30
29,0
2
BV51652990HD
205
88
107
126
145
165
 
2990
22,0
36
50
230
45
86
220
775
580
190
42
30
40,0
2
BV61653585HD
208
68
88
107
126
145
165
3585
20,0
36
50
230
45
66
220
783
585
190
42
30
42,0
2
Nominal working pressure: 180 bar
5 hasonló termék ugyanazon kategóriában: