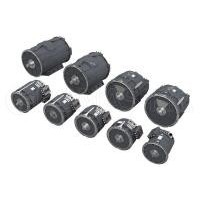 Electromobility
Electromobility, or in short form: e-mobility is a blanket term for all products, system solutions, concepts and ambitions for propelling vehicles by means of electrical energy.
The topic covers fully electric, hybrid, hydrogen fuel cell and misc. systems, as all of these solutions use stored and/or converted electrical energy for propelling the vehicle with electrical machines.
The main motivation for designing electrical vehicles are the environmental regulations tightening around emission, and the ever increasing (power) need of consumers. Fulfilling both needs at the same time needs the most efficient propel systems to be applied while reducing local emissions, or partly or fully exchanging local emission with local energy storage.
Editron is the brand name for the products and system solutions Danfoss Power Solutions offer and deliver for e-mobility projects.
Danfoss Editron products are especially well suited and purpose-built for applications such as:
- off-highway mobile machinery
- on-highway transportation
- marine
- renewable energy