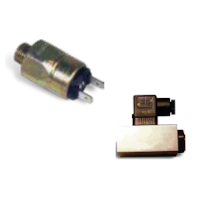 Pressure switches, sensors and transmitters
Pressure switches, sensors and transmitters are used to feed important pressure-related input parameters to the control system of the machine. Pressure switches are simple electrical switches, which can be normally open, normally closed (normally = without pressure in the system) and they switch when the pressure in the hydraulic side reaches a set pressure. This pressure setting is usually manually adjustable to the application. Pressure switches may operate an overload warning, turn a pump on or off while charging an accumulator, indicate a clogged filter, etc.
Pressure sensors or pressure transmitters are constantly sending a (pressure dependent) proportional signal towards the main controller. They are used to create sophisticated machine controls, or used by maintenance specialists and on hydraulic test benches for even more accurate measurements.
Opens or closes an electrical contact depending on input pressure.
Opens and closes electrical contacts depending on input pressure.