Our Services
Engineering consultation, hydraulic system solutions
Sales of hydraulic parts from warehouse stock
Our company is the official "Advanced Partner" level Distributor and Service Partner of Danfoss Power Solutions in Hungary.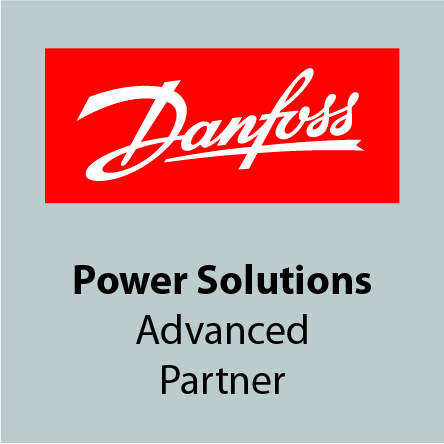 Danfoss products on our stock:
OMM,
OMP,
OMR,
OMS,
OMT,
OMV,
PVG16,
PVG32
New products are available from Danfoss:
H1P,
H1B,
MP1,
PVG16,
stb.
Genuine parts for Danfoss axial piston pumps and motors, usually on stock or with quick delivery:
Series 90, Series 45, H1P, H1B, and other products. (Please send dataplate photo in your e-mail inquiry!)
Reference list of Sauer-Danfoss model codes
We support your engineering projects, in hydraulics and in mobile electronics, including sales and programming support for 
Danfoss PLUS+1 microcontrollers and HMI devices
.
Hydraulic Units
Planetary Gearboxes
Hydraulic Components for Agricultural Machines
Hydraulic Components for Construction Machines
Hydraulic Components of Communal Machines
Hydraulic Components for Forestry Machines
Hydraulic Components for Industrial Machines
Hydraulic Components for Injection Molding Machines
Repair, Service, Replacement Units

Repair of hydraulic units from all market leader brands:
Danfoss (and legacy brands Sauer-Danfoss, Sauer-Sunstrand, Sauer-Getriebe), Kawasaki, Turolla, Comatrol, Staffa, Siro, Rexroth, Linde, and other market leader brands. 
Referencs lists:
Hydraulic brands
Machinery brands
Application reference list
Genuine KAWASAKI products with quick delivery:
K3V112DT, K3V140DT, K3V180DT, K3VL112/B-1NRMM-P0/1-H4; K3VL140/B10-RMM-P0; K3VL80/B-1NRMM-P0/1-H2; K3VL45
Parts for K3V and K5V pumps

Repair of Poclain types using genuine Poclain parts:
MS02, MSE02, MSE03, MS05, MSE05, MS08, MSE08, MS11, MSE11, MS18, MSE18, MS25, MS35, MS50, MS83, MS125
Replacement units for the purpose of service, following the requirements of our Customer:
- Genuine or OEM products
- Aftermarket or replacement products