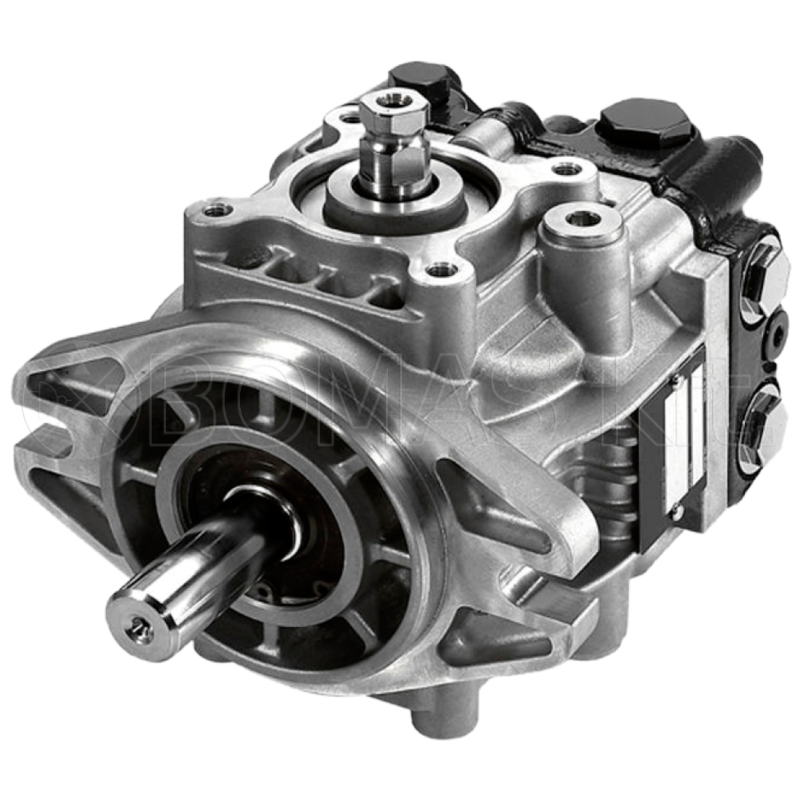  
New Danfoss axial piston pump family for closed circuit use, featuring very compact sizes and light weight.
Size available: 20 cm3/rev.

Rated speed up to 4000 rpm and maximal speed up to 4500 meaning higher flow out of a smaller frame size pump.

Rated pressure: 300 bar

The pump is controlled in a direct, mechanical way through a squared shaft, without servo system. A very direct control is achievable. The weight of the complete pump comes out between 10 and 12 kg, depending on options. This allows a perfect solution for the needs and simplicity of the smallest machines.
Features and options:
- Integral pressure protection (HPRVs)
- Bypass valve (for towing the vehicle)
- Integral charge pump with relief valve
- Optional loop flushing valve (ideal for hydrostatic drives using simple orbital motors)
- Optional Implement pump (max. 70 bar, max. 20 liter/min)
- Optional Auxiliary mounting pad, allowing to build a tandem or additional work function pumps
Application examples:
- Propulsion drives of the smallest mobile machinery in construction-, agricultural-, communal-, etc industries.
- etc.
Danfoss DDC20 Technical Information
| Pump model | DDC20 |
| --- | --- |
| SAE mounting flange | A |
| Capacity (flow) [cm3/rev] | 20.0 |
| Theoretical flow on rated speed [l/min] | 80 |
| Rated speed [1/min] | 4000 |
| Minimum speed [1/min] | 500 |
| Nominal pressure [bar] | 300 |
| Intermittent pressure [bar] | 345 |
Brand: Danfoss
Large geroller type orbital motor
3 other products in the same category:
Brand: Danfoss
New Danfoss hydrostatic pump family for small to medium sized machinery
Brand: Danfoss
Danfoss hydrostatic pump family for small to medium sized machinery