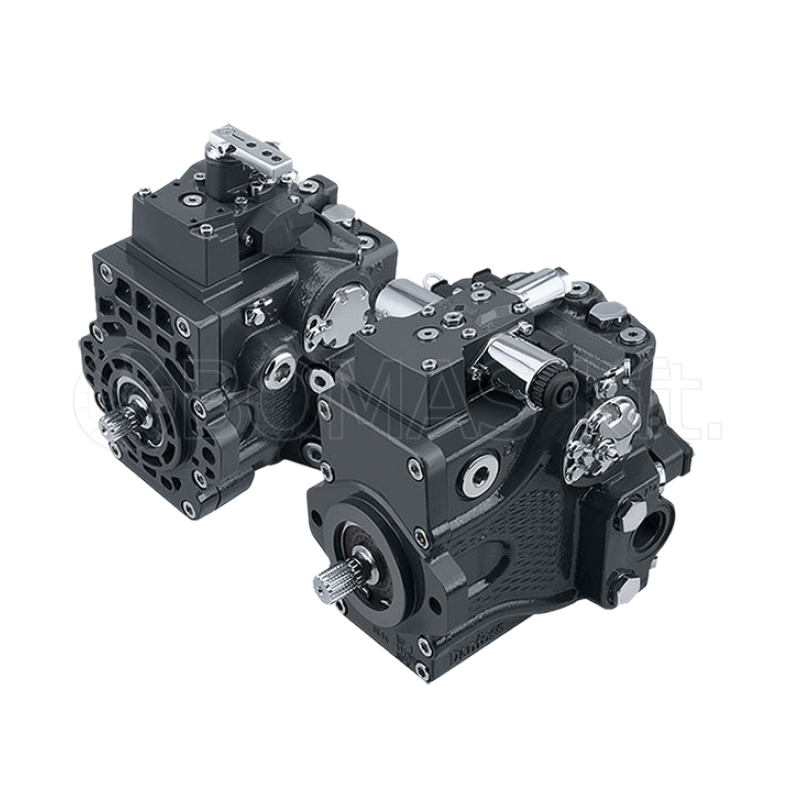  
New Danfoss axial piston pump family for closed circuit use, featuring compact sizes, clean sides and light weight.
Sizes available: 28, 32, 38, 45 cm3/rev.

Rated speed up to 3400 rpm and maximal speed up to 4000 meaning higher flow out of a smaller frame size pump.

Rated pressure: 350 bar

Servo control valve options are similar, sometime compatible to the ones on Series H1P pumps, therefore similar control options are available from simple mechanical, to state of the art embedded CAN digital AC control options.


Application examples:
- Propulsion drives of small to medium sized mobile machinery in construction-, agricultural-, communal-, etc fields.
- Any industrial rotating equipment in the power range
- etc.
Pump frame size
MP1P28
MP1P32
MP1P38
MP1P45
SAE mounting flange
B2
Capacity (flow)
[cm3/rev]
28.0
31.8
38.0
45.1
Theoretical flow
on rated speed
[l/min]
96.3
108.1
125.3
149.5
Rated speed
[1/min]
3400
3300
Minimum speed
[1/min]
500
Nominal pressure
[bar]
350
Intermittent pressure
[bar]
380
3 hasonló termék ugyanazon kategóriában:
Márka: Danfoss
Új Danfoss mini szivattyú termékcsalád a kis méretű munkagépekhez.
Márka: Danfoss
Danfoss hidrosztatika szivattyú termékcsalád a kis- és közepes gépekhez.
Márka: Danfoss
2 sebességű hidromotor